☰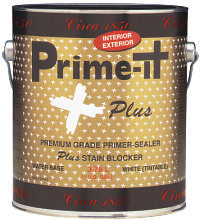 Circa 1850 Prime-It Plus
Prime-it Plus is a premium quality water-based stain-blocking primer-sealer.It adheres firmly onto glossy, chalky, and other difficult surfaces to provide an excellent undercoat.Prime-it Plus provides exceptional stain-blocking and bleed-through resistance from water stains,smoke damage, grease stains, graffiti, cedar, redwood and plywood bleed. As a universal primer it can be used under latex or oil-based paints. Prime-it Plus is recommended for both interior and exterior applications.
Remove loose paint, rust, plaster, etc. Clean the surfce with TSP and warm water. Remove existing mildew with household bleach. Stir the Prime-it Plus until consistent throughout can. Do not apply below 10°C (50°F). Apply Prime-it Plus with brush, roller, or spray. Wait 2 hours before applying top coat. Under condition of high humidity or low temperature, additional drying may be required. Clean up with soap and water.
Product Code: 3133
Size:
Case Pack:
1 L (1 qt)
6
3.78 L (1 gal)
4
18.9 L (5 gal)
1
Our products are available at many retail locations. To find a store near you, please click on WHERE TO BUY.
You may also purchase our products using our online store by clicking BUY NOW CANADA or BUY NOW USA.
No demonstration available.