☰

Finishing Oils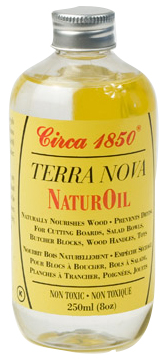 Terra Nova NaturOil
Circa 1850 Terra Nova NaturOil is a blend of pure oils that does not contain any dyes, perfumes or additives. Prevents cracking. NaturOil contains oils that are FDA approved and certified Kosher. Contains no peanut oils. Terra Nova products are non-toxic and environmentally friendly.
Apply NaturOil to any unfinished wood surface using your hand, a cloth or a brush. Allow NaturOil to soak into the wood for 15 minutes. Wipe off excess. Apply additional coats if wood is very dry. Reapply every month, or as necessary.
Product Code: 2100
Size:
Case Pack:
250 mL (8 oz)
6
3.78 L (1 gal)
2
SAFE, ENVIRONMENTALLY-FRIENDLY
NON-TOXIC
APPROVED FOR CONTACT WITH FOOD
NO DYES, PERFUMES OR NUT OILS THAT COULD CAUSE ANY ALLERGIC REACTIONS
PENETRATES INTO WOOD
PROTECTS AGAINST DRYING, CRACKING AND WATER DAMAGE
MAKES SCRATCHES INVISIBLE
REJUVENATES OLD WOOD
KOSHER
Our products are available at many retail locations. To find a store near you, please click on WHERE TO BUY.
You may also purchase our products using our online store by clicking BUY NOW CANADA or BUY NOW USA.
No demonstration available.