☰

Adhesive & Glue Removers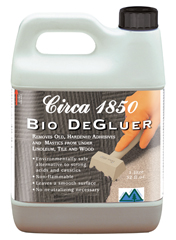 Circa 1850 Bio DeGluer
Circa 1850 Bio DeGluer is an environmentally safe alternative to harsh chemicals,strong acids and caustics. Removes old, hardened adhesives and mastics from underlinoleum, tile and wood. Non-flammable. No neutralizing necessary. Leaves a clean surface.
Wear Circa 1850 Stripping Gloves and protective eye wear. Protect painted areas with polyethylene or foil sheet. If using on a surface other than wood, metal, or concrete, test a small area first. Brush on a liberal amount of Circa 1850 Bio DeGluer. Wait at least 15 minutes for the adhesive to soften or dissolve. Keep the working area completely saturated with Bio DeGluer. If Bio DeGluer dries out, reapply to reactivate. Remove softened adhesive using a scraper. Use Circa 1850 Maple Scraper to avoid gouging wood surfaces. If adhesive is exceptionally thick and some residue remains, repeat the procedure. Remove residue with Circa 1850 Finishing Pads dipped in Bio DeGluer. When all the adhesive has been removed, wash down the surface with mineral spirits, alcohol or water using Circa 1850 Finishing Pad. Allow surface to dry thoroughly prior to covering or applying new adhesive or finish.
Product Code: 1824
Size:
Case Pack:
946 mL (1 qt)
6
4 L (1 gal)
2
PLEASANT ODOUR
STAYS WET LONGER
CONTAINS NO METHYLENE CHLORIDE OR NMP
BIODEGRADABLE
CLEAN UP: AIR DRY TOOLS, SCRAPE OFF RESIDUE
Our products are available at many retail locations. To find a store near you, please click on WHERE TO BUY.
You may also purchase our products using our online store by clicking BUY NOW CANADA or BUY NOW USA.
No demonstration available.