☰

Paint & Varnish Removers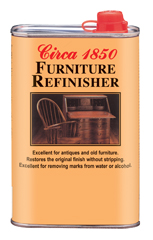 Circa 1850 Furniture Refinisher
Circa 1850 Furniture Refinisher is designed to refurbish worn, scratched or cracked finishes on antiques and old furniture, as well as modern lacquered furniture. Circa 1850 Furniture Refinisher works by dissolving the old finish and reconstructing a new finish - without stripping. Circa 1850 Furniture Refinisher is formulated to work on varnishes, shellacs, and lacquers.
Avoid working in direct sunlight or wind. Wear Circa 1850 Stripping Gloves and protective eyewear and work in a well ventilated area. Protect work area with polyethylene or foil sheet. Pour some refinisher into a foil or metal container. Soak a small piece of 0000 steel wool in the refinisher and squeeze out excess. Test first on an inconspicous area. Working in a circular motion, rub a small area to dissolve the finish. Continue by overlapping each area until the entire surface is completed. Wait at least one hour to dry, and buff surface with clean dry steel wool or Circa 1850 Finishing Pads. Apply a coat of Circa 1850 Lemon Oil, Circa 1850 Antique Danish Oil or Circa 1850 Antique Paste Varnish for added protection.
Contents may be under pressure. Place rag over cover and open slowly. If container is warm, cool prior to opening. Do not use near open flame.
Product Code: 1801
Size:
Case Pack:
250 mL (½ pt)
12
1 L (1 qt)
12
3.78 L (1 gal)
2
REFINISHES WITHOUT STRIPPING
DISSOLVES AND RESTORES FINISH IN ONE STEP
WORKS ON VARNISH, SHELLAC AND LACQUER
Our products are available at many retail locations. To find a store near you, please click on WHERE TO BUY.
You may also purchase our products using our online store by clicking BUY NOW CANADA or BUY NOW USA.
No demonstration available.