☰

Accessories & Tools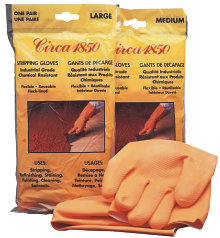 Circa 1850 Stripping Gloves
Circa 1850 Stripping Gloves are produced from the highest quality latex-rubber. Stringently tested under the harshest conditions, Circa 1850 Stripping Gloves will withstand the solvents present in paint removers, refinishers, paint thinners, lacquer thinners, and epoxy thinners. The gloves have raised fingers to ensure proper grip, and are flock-lined to provide a comfortable fit.
Use Circa 1850 Stripping Gloves with Circa 1850 Furniture Stripper, Circa 1850 Heavy Body Paint & Varnish Remover and Circa 1850 Furniture Refinisher. Work in a well ventilated area. Wear protective eye wear and long sleeves to prevent accidental contact.
Product Code: 1301
Size:
Case Pack:
Medium
144 (12x12)
Large
144 (12x12)
Extra Large
144 (12x12)
CHEMICAL RESISTANT
FLOCK LINED
INDUSTRIAL GRADE
RAISED FINGERS
Our products are available at many retail locations. To find a store near you, please click on WHERE TO BUY.
You may also purchase our products using our online store by clicking BUY NOW CANADA or BUY NOW USA.
No demonstration available.