☰

Accessories & Tools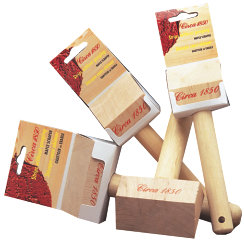 Circa 1850 Maple Scraper
Circa 1850 Maple Scraper is designed to remove paint and varnish from wood and other surfaces that are easily gouged. The Circa 1850 Maple Scraper is made from a solid block of Canadian Maple cut to a 45° angle for maximum performance. Maple provides a smooth, hard surface that cannot gouge the wood as with some metal scrapers, nor will it deform like some plastic scrapers. The handle is made of solid hardwood and fits comfortably in one's hand.
Use Circa 1850 Maple Scraper with Circa 1850 Furniture Stripper or Heavy Body Paint & Varnish Remover to remove finishes from flat surfaces. Work in a well ventilated area. Wear protective eye wear, Circa 1850 Stripping Gloves and long sleeves to prevent accidental contact. Apply a layer of the remover to a small section of the piece to be refinished. Wait a few minutes for the remover to soften the finish. Use the angled portion of the Circa 1850 Maple Scraper to remove the soften finish. Wipe off residue with a rag or steel wool.
Product Code: 1300
Size:
Case Pack:
5 cm (2 in)
6
7.5 cm (3 in)
6
NO GOUGING
DURABLE MAPLE
SMOOTH EDGE
COMFORTABLE FIT
Our products are available at many retail locations. To find a store near you, please click on WHERE TO BUY.
You may also purchase our products using our online store by clicking BUY NOW CANADA or BUY NOW USA.
No demonstration available.