☰

Waxes, Polishers & Cleaners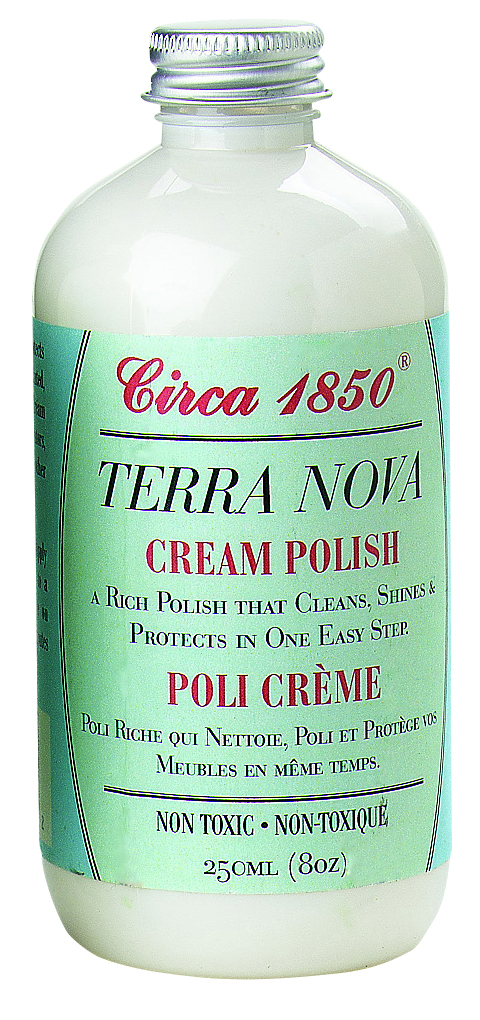 Terra Nova Cream Polish
Circa 1850 Terra Nova Cream Polish cleans, shines and protects in one easy step. This rich polish can be used on painted, varnished or lacquered furniture, as well as woodwork. Terra Nova Cream Polish will clean and shine refrigerators, stoves, countertops, cupboards and other non-porous surfaces. Terra Nova products are non-toxic and environmentally friendly.
Shake well. Apply Cream Polish with a soft clean cloth and buff to a brilliant shine. For a deeper shine on furniture, allow to dry for a few minutes before buffing.
Product Code: 2101
Size:
Case Pack:
250 mL (8 oz)
6
SAFE, ENVIRONMENTALLY-FRIENDLY
NON-TOXIC, ODOURLESS
WORKS TO CLEAN, SHINE AND PROTECT IN ONE EASY STEP
REMOVES STAINS IN SECONDS
LEAVES ALL FURNITURE FINISHES (EVEN LACQUERS) FINGER-PRINT FREE
FILLS IN PORES IN WOOD AND BUFFS UP TO A RICH PATINA SHINE
CAN BE USED ON APPLIANCES
Our products are available at many retail locations. To find a store near you, please click on WHERE TO BUY.
You may also purchase our products using our online store by clicking BUY NOW CANADA or BUY NOW USA.
No demonstration available.